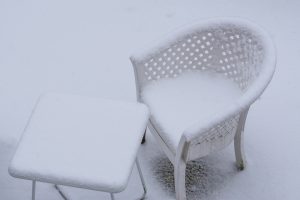 Winter is an unforgiving season with heavy snowfall, icy temperatures, and terribly volatile blizzards. The severe weather can be particularly harsh for your outdoor patio furniture. If left unattended, the continuous snow and hail will chip away at the quality of your furniture pieces. In order to preserve their current condition, you should always put the patio furniture into storage during winter.
There are plenty of furniture storage options for homeowners. Some people simply store their items into a basement, an attic, or a storage shed in their backyards. Others prefer using a professional storage service, which offers ample space and security measures to safeguard your precious patio furniture pieces. Either way, it's important to act quickly and bring your patio furniture indoors before the winter season strikes.
Depending on the type of outdoor patio furniture, these items may have different storage requirements. Some furniture pieces will need extra care before they are put into storage. Below are the seven best practices for storing patio furniture in winter:
1. Storing wicker furniture in winter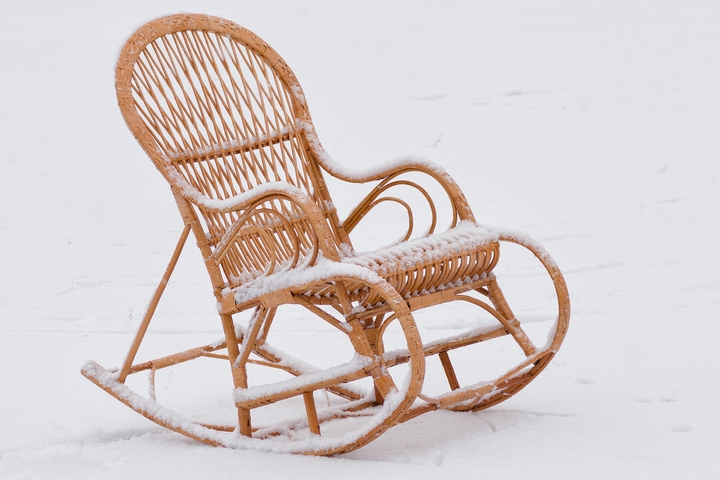 Your patio furniture sits outside for most of the year. During these months, the furniture probably accumulated a lot of dirt and grime from its surrounding environment. Winter is a perfect time to clean the furniture pieces before you put them into storage. Give them a deep cleanse, which ensures that your patio furniture looks pristine when you bring them out of storage in the spring.
Cleaning the wicker furniture should be relatively easy. Begin by vacuuming the furniture to get rid of the surface grime and dirt. Next, wipe down the furniture using a soft rag mixed with some soap and warm water. Make sure all the wooden areas are thoroughly scrubbed and washed. There are small crevices in the wicker pieces, which require a toothbrush or tiny brushes for cleaning.
After the cleanse, ensure your wicker furniture is dry before putting them into storage. If there is residue moisture on the furniture, mould or mildew may form during the winter period, which could cause severe damage.
2. Storing wood furniture in winter
Wooden patio furniture adds a rustic charm to any outdoor environment. However, these outdoor furniture pieces are particularly vulnerable to moisture during the winter. If they are left in the cold for too long, the wooden furniture may crack and splinter beyond repair. Merely throwing a cover over the furniture won't suffice, since the wood can still absorb a lot of moisture from the air.
In order to protect the wood furniture, you can preserve its condition with a special sealant that has moisture-resistant characteristics. The application works just like painting. You use a brush and apply a fresh coat of sealant onto all the exposed areas. Make sure the wood furniture is adequately dry before you put them into storage.
3. Storing plastic furniture in winter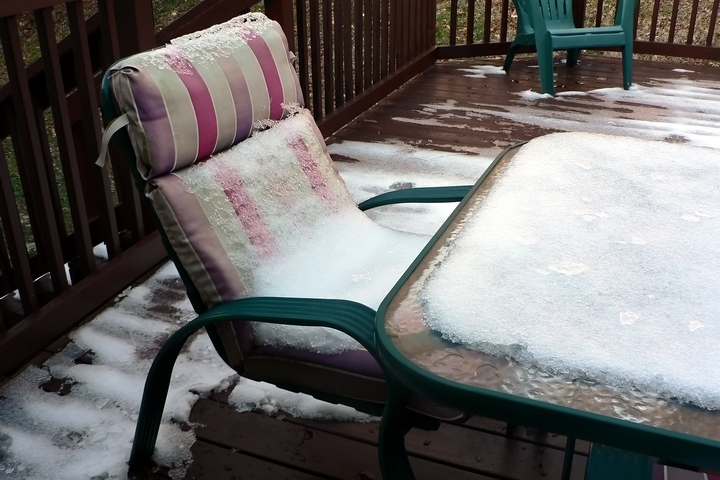 Unlike the wicker and wood furniture, plastic furniture won't have issues with moisture in the winter. However, the cold temperatures can make the plastic brittle enough to crack. For this reason, you should not leave the plastic furniture outdoors. Bring it into indoor storage before there is snow.
In order to save storage space, you may choose to stack the plastic patio chairs and tables on top of each other. You should be careful when stacking the furniture to avoid damaging any of the individual pieces. Once stacked, cover all the pieces underneath a large tarp before putting them into storage. This will reduce the amount of dust from accumulating on the furniture.
4. Storing metal furniture in winter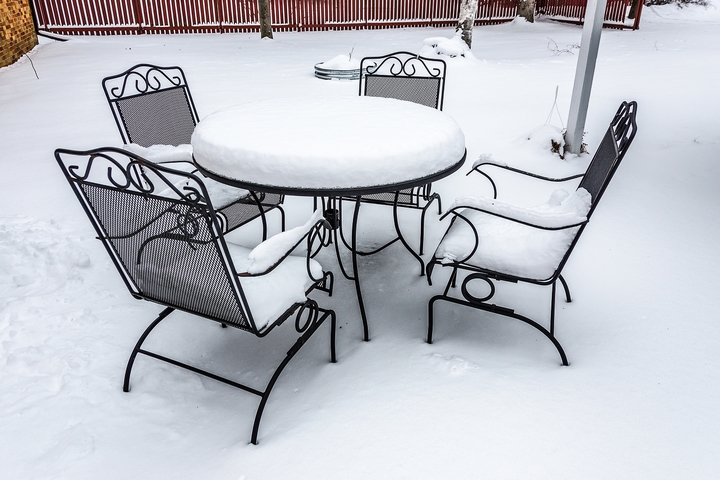 Metal patio furniture adds a chic and elegant vibe to your outdoor space. However, these types of furniture are often bulky and heavy, making them physically difficult to carry into storage. One possible option is to hire a professional moving and storage service. The other option is to leave the metal furniture outside and protect them with well-fitted covers during winter.
Metal furniture needs regular maintenance to preserve its shine and polish. Start by washing all surfaces with water and detergent. Next, scrub with a brush and rinse with a hose. Inspect the surface for rust. In case you come across any, use a rust-neutralizing primer to treat the area. Consider applying a thin protective coat of wax onto the metal furniture before putting them into storage.
5. Storing the cushions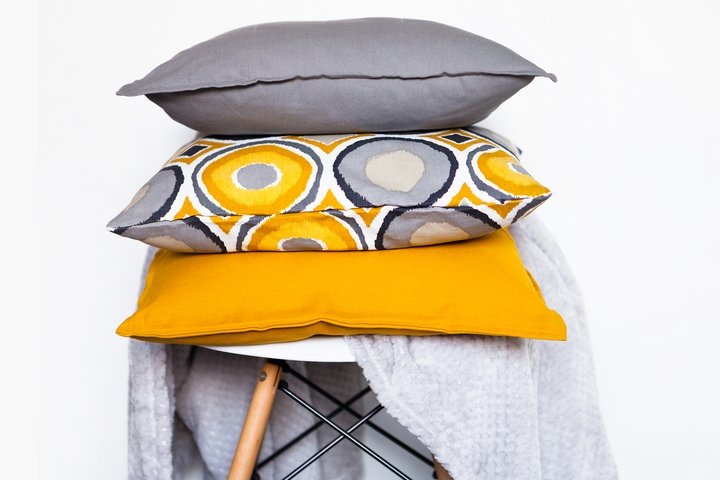 Most people use decorative cushions on patio chairs and sofas, which can make the furniture more comfortable and attractive. However, these cushions tend to get dirty after months of continuous use. Before putting the patio furniture into winter storage, you should separate the cushions and make sure they are thoroughly cleaned.
When cleaning the cushions, you should examine the labels and determine whether they can be washed. If the cushions have removable covers, take them off and wash these with a little bleach to eliminate the mildew. If you find any stains, you may be able to scrub them away with some hot water and a disinfecting cleaner.
6. Storing the patio umbrella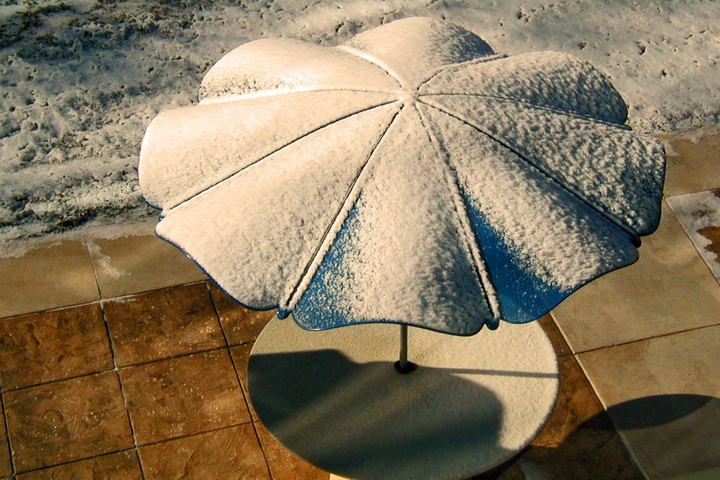 The patio umbrella is a fragile piece of furniture that won't last in the icy and windy winter weather, so you need to secure it as soon as possible. Start by giving the umbrella a quick wash and then dry it in an open position. Also, you should lubricate the locks, switches, and pivots before closing the umbrella.
Wrap the patio umbrella with plastic, which helps to keep the mildew and mould away. Cover the exposed pole using a piece of fabric or bubble wrap. Afterwards, store the umbrella into a safe and waterproof area. If possible, put it inside a storage bin or a durable box to lower the risk of rust.
7. Storing the hammock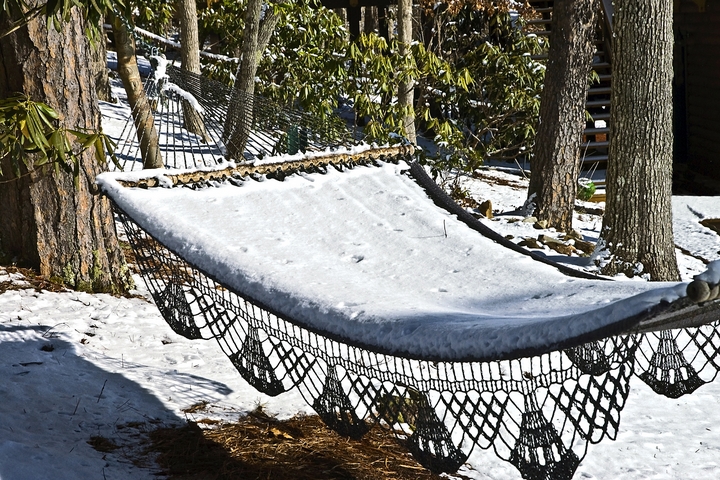 A hammock is a canvas bed that consists of a long net or a piece of cloth. During a winter with heavy snowfall, the sheer volume and weight of the snow can cause great damage to your hammock. It is always a good practice to remove the hammock before winter arrives. Simply untie it, fold it neatly, and store it somewhere safe indoors.